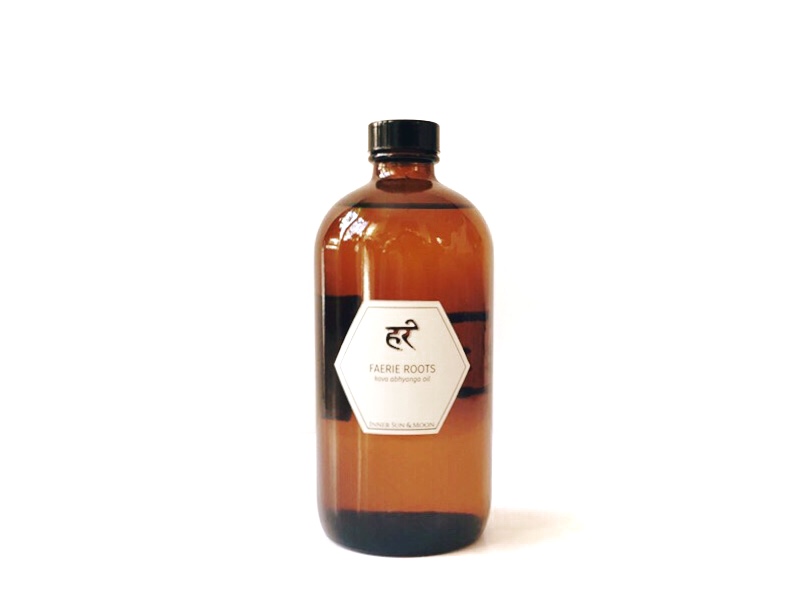 Faerie Roots
KAVA ABHYANGA OIL
Kava Kava - White Conch Flower - Orchid / Grounding Full Body Oil
16 oz

Amber glass bottle

Floral + woody scent of Vetiver, Lavender, Chamomile & Ravensara

Prepared Ayurvedically in a base of golden sesame oil
The Experience —
Rest & relax out of stress and anxiety, into the deeper elemental frequencies of the Fae

Activate your ability to see into Faerie realms

Sleep deeper, release tension, & reduce pain

Achieve states of tranquility you never thought possible
Use // Gently warm & massage into your body from head to toe. Ideally follow with a Sage Aura Polish full body scrub + a long soak in the bath.
+ An additional empty flip top squeeze bottle is included with your purchase for ease in oil application.
Contains // Organic Sesame Oil, Organic Sunflower Oil, Kava Kava Root, White Conch Flower (Shankhapushpi), Lavender, Chamomile, Flower Essence Oil of Orchid, Ravensara + Vetiver Tranquility Essential Oil Blend
* Faerie Roots is Ayurvedically handcrafted in small batches to ensure quality & freshness. Please allow 1 week preparation time before your order will be ready to ship.
* * These statements have not been evaluated by the FDA. Not intended to diagnose, prevent, treat, or cure any disease. The information provided here is for educational & historical purposes only and is not meant to replace the guidance of a qualified medical professional.