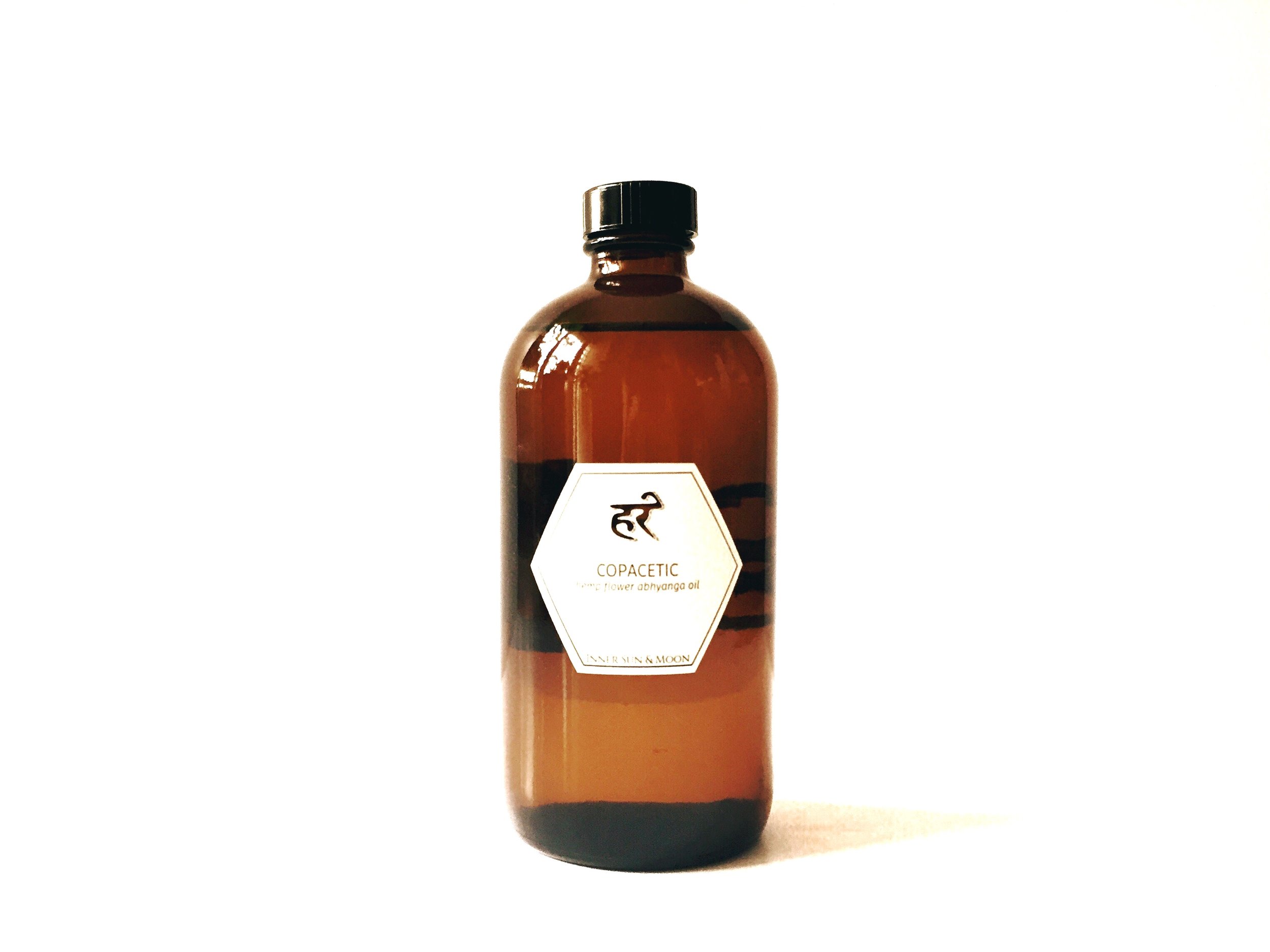 Copacetic
HEMP FLOWER ABHYANGA OIL
CBD - Brahmi - Rose - Hibiscus / Grounding Full Body Oil
16 oz

Amber glass bottle

High vibe yet grounded scent of pure rose otto + patchouli

Ayurvedically prepared in a base of golden sesame oil turned rose-gold when infused with hibiscus & rose petals
The Experience —
Lighten pain and inflammation; lighten your spirit & raise your vibration

Invoke feelings of peaceful self-love & adoration

Deepen inner body awareness & meditative states
Use // Gently warm & massage into your body from head to toe. Ideally follow with a Sage Aura Polish full body scrub + a long soak in a bath.
+ An additional empty flip top squeeze bottle is included with your purchase for ease in oil application.
Contains // Organic Sesame Oil, Organic Sunflower Oil, Hemp CBD Flower, Brahmi (Bacopa), Brahmi (Gotu Kola), Pink Rosebuds, Hibiscus Petals, Bulgarian Rose Otto Essential Oil, Patchouli Essential Oil, Peace Formula Flower Essence Blend of Jasmine, Tea Tree, Olive, & Wild Indigo
* Copacetic is Ayurvedically handcrafted in small batches to ensure quality & freshness. Please allow 1 week preparation time before your order will be ready to ship.
* * These statements have not been evaluated by the FDA. Not intended to diagnose, prevent, treat, or cure any disease. The information provided here is for educational & historical purposes only and is not meant to replace the guidance of a qualified medical professional.